I am working from home today, nothing unusual on a Friday it's my catch-up day and planning time for the next week. It has taken me years to get in this discipline, but it works finally! I have to comment on the weather though I have literally watched all four seasons in about five hours from my office window. Brilliant sunshine next doors cherry tree is in blossom, torrential rain and wind now next doors blossoms are on my lawn!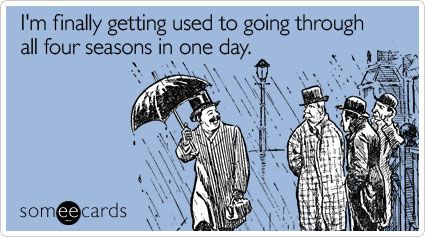 This led me to think about the seasons in business, just like the weather we have to put up with in the UK our businesses also go through a season's cycle. This cycle plays a huge part in how we make decisions for our marketing strategy and resources. The Seasons of Business is a natural analogy that can help us determine what aspect of the business we're currently in and where we want to move forward. I'm going to share what the four seasons mean for business and how we, as business owners, can have that sense of productivity, fulfilment, and growth. This analogy will show you how all the work that we put in produces traction in our business and brings out the results that we desire.
Business like seasons is cyclical, each of the seasons represents an aspect of building a business and personal growth. There are a lot of examples of how the seasons relate to what we're doing on a day-to-day or even year-to-year. You may find your business in a season that you didn't quite anticipate that doesn't fall in line with the weather season outside your windows.
This means that as business owners, we go through all seasons and stages. We may experience a specific season longer than others, but everything will eventually shift, and you start over to new projects.
Let's look at the four seasons to help you better understand where you are right now and identify where the gaps are so that you can move your business forward.
1. Spring
Spring is all about potential and possibility, for your business is that spring is the time when you start planting seeds for new growth. Spring, the season for births not just babies but those cute lambs, chicks, and ducks. For business this is when you make new business plans, develop your marketing strategy, and thinking about budgets and cash flow for the new fiscal year. If you're in this season of your business, you may be full of energy and ideas and maybe planning new services or products. For many businesses Spring is the time for a spring clean in whatever shape that works for you!
2. Summer
As summer progresses, things start to grow, and come alive. This is the time to nurture and tend to our growth but also time to manage the weeds.
A lot of this can be seen in the summer season of your business. If you're in a summer phase, you must pay close attention to your operations to keep your business growing. You need to nurture your projects, continue to promote your services, tend to your relationships, and form new connections in your community. If you're in this stage of your business, all that creativity and energy of spring will have calmed down, but you must get your projects closer to completion.
3. Autumn
This is when our business becomes mature. Autumn is the season of harvest, but only if you've put in the work in spring and summer. The same is true in your business. After consistently tending to your business, you will eventually see the results.
4. Winter
Both you and your business need time to rest. The winter season is the time for you to recover from the busy months of spring and summer. Winter often known as the season to rest. As humans we tend to socialise less, dash home in the cold and dark and for me often envious of animals who hibernate. If you're in the winter season of your business, you'll be in a phase of slowing down and taking a rest. Taking rest could be something that you want, or circumstances have forced this upon you due to a business downturn. Maybe you no longer have the same energy and drive that you had during the spring and summer seasons. Possibly, your creative ideas are not as impressive as in the past seasons. If you are in this season, remember to make time to reflect. Ask yourself whether what you're offering works or not and where you want to take your business once spring comes.
So what season are you in? I think it's useful to think of our season of business. Remember that whatever season you're at, there are no winners or losers. Each season gives us something that we can use to our advantage to better our business. Whatever season you're currently in, think about how you can make the most of this season and what you can do to shift to the next one.